Predeparture Training
VERBAL COMMUNICATION… OR NOT?
Learning a language means taking the plunge.
It means surpassing yourself a little bit, letting yourself go, deep down in the very heart of an unknown culture, discovering its communication codes, whether these are verbal or non-verbal!
It means learning to get out of your own frame of reference to understand better another set of values.
A TRAINING COURSE DESIGNED TO GET YOU READY FOR LANGUAGE BARRIERS AND CULTURE SHOCKS!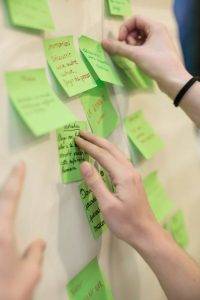 We know that going abroad and practising a new language can be hard and scary. That fear even pushes us to postpone our dreams of adventure over and over. With the SVI's language stays and predeparture training, our goal is to guide you beyond your doubts and give you all the necessary tools to enable you to develop your language skills. But, beyond language, being in a whole new country can make us feel lost. That is why have set up our predeparture training sessions that aim at preparing you for your stay abroad through different topics: culture shocks, interculturality, volunteers' fears and motivations, language barriers, debates on social issues, etc.
We take you on our 2-day preparation weekend that we hope will give you the tools for a successful experience.
Moderated by our educational team, our playful training sessions cover these different topics that need being talked about before you leap into the unknown.
You will live — through a set of workshops — different situations that will lead us to think together of what can be done to communicate despite the language barrier. And you will realise that verbal communication isn't at all the mostly used means of communication in a regular conversation. So, don't panic! Even if you think your language skills still have a lot of room for improvement, we will give you communication techniques to ensure that your language experience will run in the best possible conditions.
WE ALSO TALK ABOUT COMMITMENT!
But that's not all. The SVI isn't limited to its language projects. We take this opportunity to go a bit further, like talking about volunteering, commitment, associative life, and projects within our association! To us, being a member means getting really involved, that's the reason why we invite you to enter the heart of the SVI and understand its meaning and values.
IN PRACTICAL TERMS?
Our training weekends take place every month in Tubize, Belgium (20 minutes away from Brussels), but also 4 times a year in Perpignan, France.
Too far to join us? Sign up for our online training modules!
And the one does not preclude the other. Why not meet both really and virtually?
AND HOW MUCH WILL THAT COST?
You're an SVI member? Then it's free! This training is included in your membership fees, that's our commitment! Not a member yet? Then don't hesitate anymore! You will be asked to pay 100€ as participation fees but these can be deducted if you decide to join us in the future…
You need information? Just email us at [email protected] or phone us: +32 2 888 67 13.