Language Conversation Tables
The "Papotes" are our (now online) language conversation tables. They are free and international!
You have learnt a new language and are looking for a way to practise it? You'd like to chat freely with people from all horizons to enrich your vocabulary? Well let's dive into our language conversation tables!
What is it?
The main idea behind these language conversation tables is to facilitate intercultural exchange while learning through informal education. Each session takes place around a table where participants are guided by a moderator through a set of activities. Participants discuss a specific topic (usually about travelling), and/or play games in a foreign language. No lessons or assessments here. Friendliness is the watchword! You will learn at your one pace, without any pressure. Some basic knowledge of the language is necessary, but no specific skill is required. Don't be afraid of making mistakes, the important is to take part and have a good time!
Whats does the SVI have to offer?
The SVI has recently set in place this concept in English, Spanish and French in several dedicated places in Brussels. Everybody is free to take part, no matter their language level! These sessions are free and open to all.
Currently, the Papotes take place ONLINE on the platform Zoom, every TUESDAY at 5 PM (Spanish) and every WEDNESDAY at 5 PM (English)! They welcome groups of max. 12 participants and moderators from the SVI. Together, we raise different travel-related topics (hitchhiking, travelling as a woman, culture shocks, etc.), play quizzes or simply talk freely about these subjects. Don't hesitate to share your own ideas!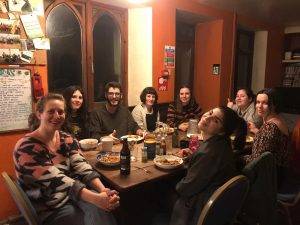 In the future, we would like to widen this range of languages. That is why we need your help! If you wish to participate in this project, suggest another language, or organise this kind of gathering in your home city either in Belgium or France, please feel free to contact us!
How to take part in our language conversation tables?
To sign up and access our online conversation tables, enter your name and email address in the form below and you can participate in the conversation tables for free! You don't have to be an SVI member to participate. So, what do you say? Want to learn languages online for free?
We look forward to meeting you! 🙂
Looking for real courses to improve your language skills? The SVI also offers native-teacher-given online language classes. These courses can be adapted to each student's level and needs! Click here for more information.
Register for Conversation Tables
Raphaël and Sarah introducing you to the Papotes!