Registration Process
How to Apply for a Language Stay?
Wondering how to sign up for a language project? Nothing's easier!
Step 1: Choose a language.
This may seem obvious, most of you will already have a language in mind that you would like to start or improve.
Step 2: Choose a destination.
Like the first step, this might seem a bit obvious. A lot of our language trips take place in obvious destinations such as Spanish courses in Latin America, German courses in Germany or Russian courses in Russia. However, thanks to competent language schools, you can learn languages in any destination, especially English because of its role as international language! English in Vietnam? It's possible, because many native speaking teachers now work all over the world! Bear this in mind when you're choosing your project!
Make sure you are available for the trip dates and have the required level of language proficiency.
Step 2a: Optional. Test your language skills (English)
Some of our language trips are open to all levels, other linguistic projects are targeted at certain levels of proficiency. To ensure that you choose a project that is catered to your level so that you can get the most out of your experience, take this free test to evaluate your English level!
Step 3: Get in Touch
Please send us a direct request from the website (or an e-mail) as soon as you have decided! The projects are on a first-come first-served basis, so the earlier you get in touch, the more chance there's a spot for you!
We will ask you to fill in this form: (Language trip application form) – don't hesitate to do it right now, it will take you 5 minutes! If applicable, send us the results from your online language test (a screenshot will do) at the same time, so that we are sure we are sending you on a project that's right for you!
Step 4: Confirmation and payment
Once we have exchanged by mail, we will be able to confirm your chosen project is available and that you have the necessary profile.
You can make your payment in the payment form at the bottom of this article. Don't forget to send us a confirmation of your payment.
Step 5: Before you go
Before you depart for your destination, we highly recommend you attend one of our preparatory weekends that we hold every month. These weekends are animated by our staff and allow you to meet other participants as well as improve your understanding of other cultures thanks to our intercultural training and activities. You will also be able to ask all the questions you have about your destination!
The weekend is included in your fee, so please feel free to come! 🙂
Step 6: Departure
There will be a number of things you will have to do before your departure. The main ones are buying tickets to and from your destination, checking visa requirements, taking out travel insurance… All this you can find through the SVI, since we look for the best affordable prices for you! Feel free to get in touch with your coordinator at SVI who will be more than happy to help.
Step 7: Once you return
Congratulations! You have improved your language skills while promoting and contributing to intercultural exchange!
If you would like to continue improving your language skills, you can try out our online language courses, where you can have one on one classes with experienced language teachers! You can consult our offer here.
Still not a member of the SVI? Why not join us? We encourage all our members to get involved with our activities, don't hesitate to ask us about our events in Brussels and abroad and feel free to attend! If you would like to get more involved, the SVI is always looking for volunteers, interns and Service Civique helpers. We are working for you and we are glad to share our professional knowledge with you!
One of our missions at SVI is encouraging our members and participants to get involved in associative life and we have lots of connections with associations in Belgium and France as well as around the world, if you'd like to get involved locally, we might be able to help!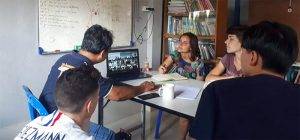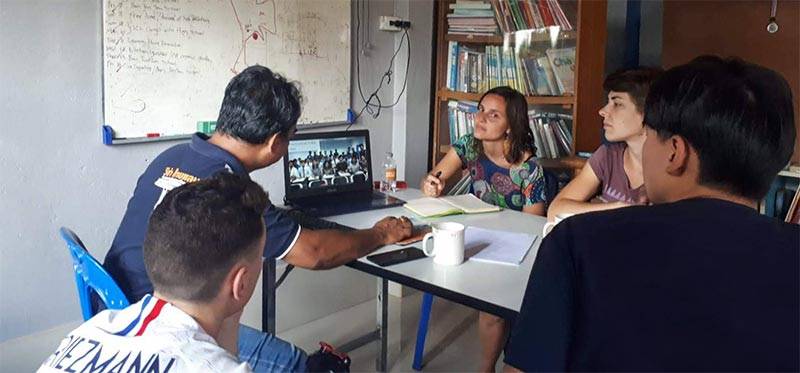 And that's how you apply for a language stay with us! Still got any questions? Feel free to ask them anytime by Email: [email protected] . We will be glad to answer them!