Teamleader and Animator Training
You wonder how you can develop your intercultural experience and language skills through associative projects? Why not become a team leader on our group projects or a moderator on our predeparture and homecoming training courses? If you want to get trained to leadership, come to our non-formal-education-based training sessions!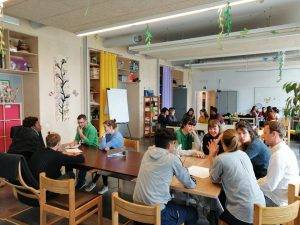 ANYTHING ELSE?
You went abroad to learn a language?
You're back from a voluntary project?
You took part in a youth exchange?
And you think there's nothing more you can do?
… that you can go back to your normal life?
Nope!
We told you so: you're an SVI member for life!
WE INVITE YOU TO JOIN US!
We offer you to discover the heart of our association at ALL stages.
From the predeparture weekend when we first met you, to the project you lived and the homecoming weekends you took part in, you now know quite well our association. You can now go further and fully join us at any time!
So why not seize that opportunity? You already have a good experience of interculturality, community life, and languages! Then just GO!
We invite you to contribute among us! Here are a few tips!
WHAT DOES BEING A MODERATOR OR TEAM LEADER (on group projects) MEAN?
We think it is important that all young people can actively take part in our association. Your experience is the best possible training to moderate preparation weekends or become a team leader on group projects (even though a complementary training will give you some necessary tools). You will share what you lived, what you experienced, and guide other young people into undertaking this great language or voluntary adventure!
Becoming a moderator: You are invited to participate in our preparation weekends to share your experience and take on the moderation of different activities for future volunteers. But you can also assume this role in courses, conventions, and many other occasions! The SVI must always be run by the young, for the young! We will teach you how to moderate and use non-formal education.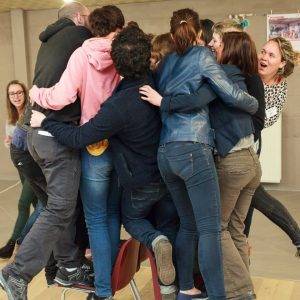 Becoming a team leader: Leave with a group of young people on a language project, on an international work camp, or on a youth exchange.
All of that is possible and is part of this journey through our association that we offer you to take.
Here at the SVI, we prefer to talk about "team leaders" rather than "group project guides". For us, a team leader is just one volunteer among other volunteers. His or her role is to watch out for the dynamic and security of the group.
WHAT WILL YOU LEARN DURING THESE TRAINING SESSIONS?
Our education team offers you to take part in training sessions, European meetings, seminars, online conferences, meetings with other moderators and team leaders, etc.: a wide range of tools to get you trained and enable you to get involved with us.
Together we will raise different topics such as interculturality, stereotypes, culture shocks, cooperation and competition mechanisms, etc.
There will be then more in-depth training sessions to fully explore these concepts.
From theory to practice; from essential concepts to procedures for organising language projects, international work camps, or youth exchanges; from your role to our philosophy: all these elements will be discussed with you! We can't wait to see you there!
We want you to become an actor of our association!
HOW MUCH WILL IT COST?
Nothing! These training sessions are reserved for our members who already went on a language or voluntary project. Offering you this opportunity is part of our commitment.
You need information? Just email us at [email protected] or phone us: +32 2 888 67 13.