Life in the Association
Go Local!
The SVI wants to help its members and volunteers to improve their foreign language skills. To us, learning a language is a way to convey knowledge, cultures, and to encourage exchanges. That is why we don't only offer projects abroad. Indeed, we are convinced that small actions, even at local scale, can also have a real impact on the involvement of students and young people wherever they live.
Thanks to the ongoing communication between the SVI's team and its young members, we have managed to put in place a set of local activities that enable our members (and future members) to get more involved in the life of our association.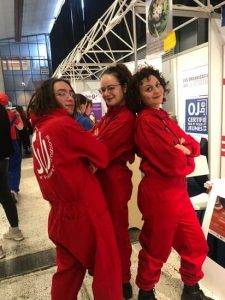 You went on a language stay or an international voluntary project with the SVI and you would like to share your experience?
Several options are available!
Every month, the SVI organises several predeparture preparation weekends (in both Belgium and France) to prepare its members before their mobility. You are then more than welcome to come and share your experience on one (or several) of these weekends. You will have a computer and a projector at your disposal if you want to illustrate your speech with pictures and videos.
In addition to that, once in a week, the SVI organises information sessions in Brussels, Lille, Paris, and online to present the association to anyone who wishes to know more about our projects and our values. If you too want to take part in one of these sessions and speak about your journey as an SVI member and your experience of voluntary projects or language stays, again: you're more than welcome!
Last but not least, a little while ago, we and our radio partner PulseAir started to air interviews of some of our members sharing their different experiences abroad. You can click here and listen to Alicia talking about her stay in Africa. And we need more of these, so if you are into the idea… you're more than welcome! ?
You took part in one or several projects with us, liked working in a team and now desperately want to accompany a group of members on a project? We think it's great!
That is why we have also set in place team leader training sessions animated by the educational pole of the SVI. Don't hesitate to send an email to [email protected] if you wish to join the team!
You had any sort of language experience abroad and now want to keep practising the language you learnt there? You're in luck!
Every week, the SVI organises conversation tables in English, Spanish and French (for now) in different public spaces in Brussels (ULB, bars, etc.). Currently, because of the COVID-19 crisis, these sessions take place online on the platform Zoom. It's every Tuesday at 5 p.m. in Spanish, and every Wednesday at 5 p.m. in English. Click here for more info or to sign up.
And if you want, you can organise your own conversation tables near where you live. We'll come!
You love travelling and participating in group projects? Organising events would be your wildest dream? Join the Equinox community!
What is Equinox? They are events that take place regularly and gather volunteers to encourage rich exchanges!
Who is Equinox? It is a group of young and dynamic SVI members open to anyone who wishes to join them.
If you want to know more about Equinox, check out this page on the SVI's website or visit their Facebook page.
Don't hesitate to email us if you need any information : [email protected]. We'll be glad to help you out!
Kellyra introducing you to Equinox