Get ready to embark with us on the Trans-Siberian Railway adventure!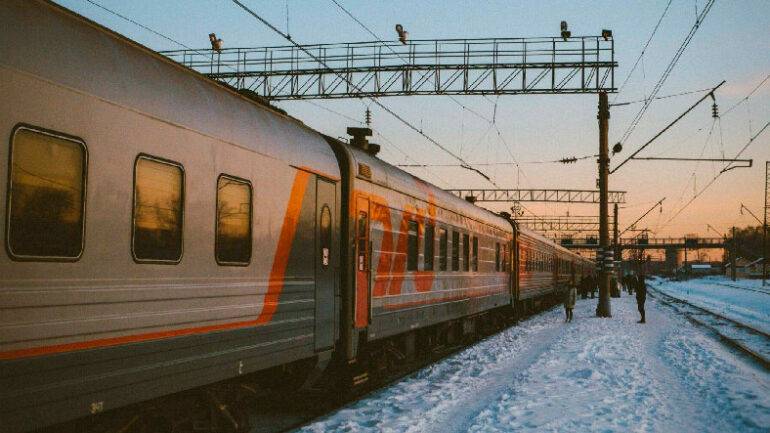 For some months now, Service Volontaire International (SVI) has had a brand new project in mind that offers you the opportunity to organize an alternative Trans-Siberian trip.
But where does that idea come from anyway? Well, our international project coordinator, Milana, comes from Russia. She wishes to make you discover her culture during a special trip that would go against the touristic and consumerist vision of travel. And what's the cleverest way to travel through Russia? By taking the unique and famous Trans-Siberian Railway, of course! And there it was, the project was born! Now all that's missing is you to bring the journey to life! Service Volontaire International wishes to accompany you organizing this trip whose goal will be to discover various countries, languages and cultures, but also to engage in local and cultural volunteer activities.
To give you a glimpse of what the Trans-Siberian experience is all about, we recently have organized a meeting on this topic. Two former passengers of the Trans-Siberian Railway started the meeting by sharing their experience.
Thanks to their anecdotes, their adventures and to the people they've met, Stéphanie and Antoine made us feel like actual passengers of this mythical train. We were therefore able to share the Trans-Siberian Railway life they led amongst Russians. Communication wasn't always easy since most of them didn't speak English. There was, however, a friendly atmosphere and non-verbal communication and translators made exchanges somewhat possible.
The Trans-Siberian Railway makes us question our relation to time, our travel habits, as the landscapes slowly evolve over the hours and over the days. For Stéphanie, traveling by land is much more enjoyable because it is slow. Our body undergoes less stress and we tend to appreciate more the covered distance, she said.
The Trans-Siberian trip was also a great opportunity to take on organizational challenges both before departure and during the trip: purchase of tickets, what class and berth to book, visa related administrative duties, etc. You can get more information on these issues on the Tour du Mondiste Website.
We would like to sincerely thank Stéphanie and Antoine for sharing with us. Click here to read Stéphanie's full Trans-Siberian experience on her blog where she shares her world trip journey.
The meeting ended with a few more explanations on the SVI's Trans-Siberian Railway project.
This article is also an opportunity to introduce you to the SVI's Trans-Siberian Railway project, which differs from the traditional Trans-Siberian trips that tourist agencies offer. Indeed, we wish to offer an alternative trip by train where we enjoy taking the time to travel. We also want to promote meeting locals and to organize activities that are as close as possible to the local culture. This trip will be your trip. We won't organize it from A to Z as you will decide on your own dates, towns and places you want to visit. However, we will be there to accompany you and to help you organize the trip. What matters to us is that the trip meets your expectations and that you play the leading role.
As far as the groups' organization is concerned, the Trans-Siberian trip participants will have the chance to choose their fellow-traveling companions based on their common interests and needs. To make a success out of this trip and to create a good atmosphere, it is crucial to be willing to spend time with others! In order to live this experience to the fullest, we advise you to form groups of 5-7 people maximum so you can meet other travelers. A group too large would reduce the interactions with the locals. If there are many of you, it is absolutely possible to form multiple groups that would suit your preferences and wishes.
To accompany you on your project, the SVI will be present to:
– set up (online or in person) preparation meetings on themes that you may be interested in. Those meetings will be free of charge.
For example:
· Lake Baikal in the winter and in the summer (hiking, local food, Angara River, Buddhist temples, forests and mountains).
· How to travel cheap and safe in Russia (advice to organize your own trip).
· Traditional Russian carpentry and volunteering (meetings with Russian heritage associations). If you want to volunteer in Russia, we can make a few project suggestions.
· Do's and Don'ts regarding the community life in the train.
· Top 5 of the best Russian movies! (Discovery of the Russian cinema.)
· Russian language lessons before you go on the Trans-Siberian Railway adventure.
– to help you with the administrative and organizational procedures (how to obtain a visa, check up on information on Russian websites, airport shuttles, Russian language lessons, set up meetings with Russian associations, accompany you on volunteering projects along the way, assist you in case of emergency, etc.)
To benefit from this support and participate in the SVI Trans-Siberian Railway experience, it will be necessary to become a SVI member (the membership cost is yet to be defined).
FOR MORE INFORMATION
Are you interested in the Trans-Siberian Railway adventure? Would you like to take part in our Trans-Siberian meetings?
Feel free to send an email to Milana ([email protected]) and sign up on the Facebook page to get all the necessary information about the project development.
Thank you for reading,
See you soon for a new article!